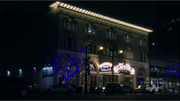 Capitol Theatre
is a reason stage show theater in
Salt Lake City, Utah
.  Many actors and shows have passed through this theatre since it opened.  After the theatre closes for the day, the past returns.  Before the Capitol Theatre there was a old play house in its spot.  One day a fire happened in the old stage house and the building burnet to the ground.  Everyone was thought to escape the inferno, except one.  A
usher
went back into the inferno to serch for any one that was left behind except he got caught in the fire as the building fell apart.  Now every night after the theatre closes the ghost of the usher haunts the hallways and rooms of the theatre.
Ad blocker interference detected!
Wikia is a free-to-use site that makes money from advertising. We have a modified experience for viewers using ad blockers

Wikia is not accessible if you've made further modifications. Remove the custom ad blocker rule(s) and the page will load as expected.