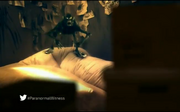 Goblins are nocturnal mischievous creatures that live in people's homes. They appear in the episode "The Visitors", The tenant who owned the house, Bill, was terrified when he saw it and the creature disappeared. They are ruled under a demon general.  Goblins are known as folklore in mythology and described as evil or mischievous creature; a grotesquely evil or evil-like.
Despite it, there are many cases where Goblins are actually real. Like many demons, it's possible to exorcise Goblins out of a house. Bill contacted a woman he knew a few years ago to exorcise the demons with a help of a stranger, but its unknown if they both succeed on driving them off as it was not shown in the episode.
Ad blocker interference detected!
Wikia is a free-to-use site that makes money from advertising. We have a modified experience for viewers using ad blockers

Wikia is not accessible if you've made further modifications. Remove the custom ad blocker rule(s) and the page will load as expected.