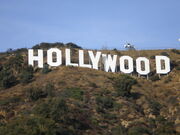 The
Hollywood Sign
is the most famous land mark in
Hollywood, California
.  It is a top of a large hill on the outer area of Hollywood.  People has traveled to the top of that hill and on top of the sign itself to  commitee sucide.  One of the sucide victims is the
Lady in White
.  In life she climbed up to the top of the sign and jumped off of it killing her on impact.  She did this after a bad review of her latest movie.  Now she is a shell of her former self, wandering the hill signs, scaring visitors that travel to the top at night.
Ad blocker interference detected!
Wikia is a free-to-use site that makes money from advertising. We have a modified experience for viewers using ad blockers

Wikia is not accessible if you've made further modifications. Remove the custom ad blocker rule(s) and the page will load as expected.