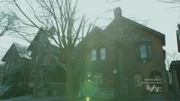 Mercado
family moved into this
Brooklyn
home in 1982.  The house at first was peaceful when the playful teenage girls stumbled into a Pandora's box that let lose the spirits of the past.  At first the spirit made lots of noise until the spirit started terrorizing the family.  In the end the spirit was exorcized of the house and no longer appears there.
Ad blocker interference detected!
Wikia is a free-to-use site that makes money from advertising. We have a modified experience for viewers using ad blockers

Wikia is not accessible if you've made further modifications. Remove the custom ad blocker rule(s) and the page will load as expected.