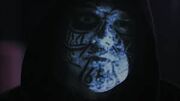 The Santa Muerte (Spanish:"Holy Death") is a Mexican Catholic saint of death and the patron saint of drug cartels, criminals and murderers. She takes the form of a cloaked skeleton with a scythe or a globe, as well as appearing in the form of moths.
In the episode, The Saint of Death, she terrorizes Chris who lives in an apartment in Juarez, Mexico, where people were presumed to have been killed. Chris eventually leaves the apartment one terrifying night.
Ad blocker interference detected!
Wikia is a free-to-use site that makes money from advertising. We have a modified experience for viewers using ad blockers

Wikia is not accessible if you've made further modifications. Remove the custom ad blocker rule(s) and the page will load as expected.