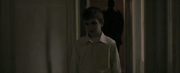 The boy
or
John Doe
, spends his eternity searching for a friend to play with and his lost mom.  He makes mischief in the house while it was being renovated by turning on and off the lights.  But in real life he was the son of a prostitute and one day went down stairs into the basement and fell into a large aquarium full of water.  No one really knows what is this boy real name and he is attracted to strong female energy that admits a mother like feeling.
Ad blocker interference detected!
Wikia is a free-to-use site that makes money from advertising. We have a modified experience for viewers using ad blockers

Wikia is not accessible if you've made further modifications. Remove the custom ad blocker rule(s) and the page will load as expected.